When it comes to cyber security – protecting your business from criminals who want to get hold of your data – people are the weakest link. And if that link is broken, the results for your business can be crippling.
We want to change that by making your team the strongest linkand to do that we've partnered with the world leading provider of Cyber Security Awareness Training, KnowBe4.
Through an advanced learning and development programme, we can change your team's behaviour when it comes to cyber security. This will reduce your business risks and save you time and money.
Tens of thousands of organisations around the world have said the programme is user-friendly, effective and affordable.
Train -> Test -> Track -> Repeat
Whether you're a business owner, HR manager, IT professional or simply struggling to know where to start with cyber security training, this programme has been designed and created with you in mind.
Powerful, proven and easy to use, within a few hours of signing up we'll have your organisation on a solid trajectory for cyber secure behaviour and lower cyber risk.
THE PROBLEM
People are online almost all the time. We use the internet hundreds of times a day – opening emails, clicking on links, visiting websites, and opening documents.
We do most of these tasks without much thought, and that gives criminals an opportunity to catch us out.
All it takes is one click on a link in a 'phishing' email or one visit to a rogue website.
FACTS NOT FEAR
Even with the best security technology, you can still be the victim of a cyber attack. That's because organised criminals are targeting individuals in businesses in new sophisticated ways.
When people are being targeted, you need to change their behaviour. You want each person to be part of a 'human firewall'.
To create behaviour change that lasts, facts are more powerful than fear. So we make your team aware of the problems and how to solve them. We do this through a cycle of training, testing, monitoring and repetition. This builds an awareness of cyber crime in your business and makes sure everyone in your team is defending you.
Your human firewall will become a key part of your cyber security. We're here to help you create, maintain and develop it.
Train -> Test -> Track -> Repeat
We are working with KnowBe4, world leaders in cyber security training, to bring you a full awareness training, testing and management service.
It's proven, affordable and user friendly, and it saves you time and money.
You can buy the programme and run it yourself, or we can manage it for you.
TRAIN
First, the programme compares the cyber security awareness or your business with best practice. Then it trains your team to improve your cyber security by making positive changes to their behaviour. We create a security awareness programme for you and automate it. The programme covers training for all staff, from new starters to people in specific roles (for example, your executive team or mobile workers).
You can find all the activities you need in the training library, from posters and games to tutorials and videos. The activities cover every aspect of cyber risk that your staff need to know about. Some take less than five minutes to do, while others take half an hour or more. The programme logs information on what each user has done, and gives you clear and powerful reports to help you manage your organisation.
TEST
Regular tests will tell you whether your team have changed their behaviour. To test your team, the programme launches mock 'phishing' attacks. It does this by sending emails, website links and documents to their inbox or on social media, including LinkedIn.
If a user clicks on an 'unsafe' link, the programme takes them to a safe webpage that tells them they've failed the test.
The programme logs this behaviour and updates risk profiles. If a member of your team keeps failing the tests, you can give them tailored training to help them develop better habits and keep to these.
TRACK
The programme gives you reports about how your organisation is doing compared with the best in the world.
It gives a score to each team member based on their progress through the training. This allows you to measure progress across your business and pay attention to any weak areas.
PACKAGES AND INDICATIVE PRICING (ex-VAT)
You can subscribe to the programme for 1 to 3 years. The cost is based on how many people will be using the programme, the package you choose, and how many years you subscribe for.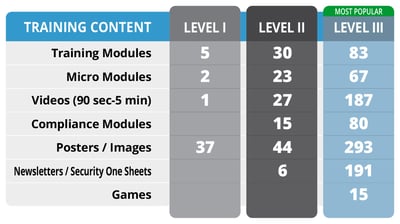 We offer Silver, Gold, Platinum or Diamond levels of training. The higher the level, the more features you can use.
We offer a discount for 3-year contracts.
If you're using an older cyber-security training programme, we may be able to upgrade you.
If you subscribe through us, we can add extra services to meet your needs. For example, we can check whether data you hold has been published on websites on the 'dark web', the part of the World Wide Web that criminals can use anonymously.
SIGN UP TODAY
Phone us on 0203 906 1400 to find out more about cyber security awareness training. We can also tell you about other products that protect your business, including DarkWeb monitoring, distributed denial of service (DDoS) protection and secure communications solutions for mobile devices.
​We're open 24 hours a day, every day of the year. Or, you can fill in our contact form below.